Shaun and myself are up early scanning our passports and making copies for immigration later in the week. My family has reached Australia safely and MJ does not seem to have caused to much trouble. I will talk more about the Australian trip in a separate post. We are due to head to the marina about 8 am.
We head down to the boat around 10am and basically sat around waiting for Robbie Dove and Jean finish the dry shopping. Jean eventually arrived with the goods around 2pm and we all helped to pack onto the boat. First impressions are that there is far to milk and sugar. Three of us don't even drink or use any. We booked a table at one of the V & A restaurants for  an all inclusively priced meal for R750. I proceeded to go large and was not disappointed. Margie and Kevin also spoilt us with a bottle of champagne and Jean cut my steak for me. I am still trying to work out why! 🙂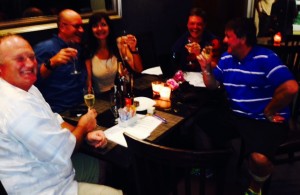 I ended going back to the flat with Shaun and Jean but decided that it was a shame to waste Hogmany and headed out myself. Long street was where I eventually ended up and what a jol.
I am now finishing off yesterdays blog so if its got spelling mistakes… so be it.
Happy New year everyone have a blast this year!!