Theory course for Oct 26-30 2013. We arrived on Friday night and met our host Perry-anne and our instructor big Dave.
The course started every day at 8:30am. The very 1st day we  covered all the collision regulation stuff (lights, sounds, shapes etc) and then from the Sunday started with the navigational stuff.  We had breaks at 10am for half an hour tea time and then again at 13:00 for lunch.  The days ended between 4:30 and 5pm depending on how everybody gets on with the theory that needs to be covered every day. There was homework on the 1st to 3rd nights to be handed in the following day and then the exam theory exam was written on the last day.  We left at 14:00 on the last day.  The accommodation was included and we had our own rooms and the lecture room was available to everybody to study and work at night time.
The four of us all attended the course although Kevin  had to return suddenly to Johannesburg on Sunday due to a family crisis, which was unfortunate as he was not able to complete the course. The remaining three of us struggled on and felt like we were back at school during exam time, as big Dave  pounded us with hard information and exercises and at night we  tried to consolidate what we had learned.
We all passed our exam with Shaun excelling by posting 100% score.
There was something else happening that weekend in Cape Town and that was the Currie cup final between Western province and the Kwa Zulu Natal Sharks.  Well we did not miss this opportunity and thanks to a good friend of mine we were able to  acquire four tickets for the Saturday  match.  Thanks H!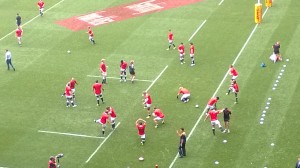 We managed to head off after lunch on Saturday and drove the 1 and half hours to Newlands. The Sharks won!! Well done boys and only Jean was left forlorn as the only WP boy amongst us. The only problem was that the celebration was limited to a long drive back after match without beer.